Service providers have the ability to request the closure of a specific job. This will make sure that all work orders are accounted for and updated on their profile. This applies when:
The job has already been completed and paid outside Strata Connect.
The committee decided they no longer wish to do the job.
The job is in regards to a Warranty Issue and does not need to be invoiced
A maintenance agreement is in place
There's no charge for a job
A gesture of goodwill and there will be no charge
To do this, follow the steps below:
1. Log in
2. Click on the Jobs Page (Wrench icon)
3. Select the relevant job
4. On the Work Summary page, click the three dots beside the messaging icon and click Mark as Closed.

5. Select the reason, enter the payment date, invoice details, upload a copy of the invoice and enter a comment (optional) and click Submit.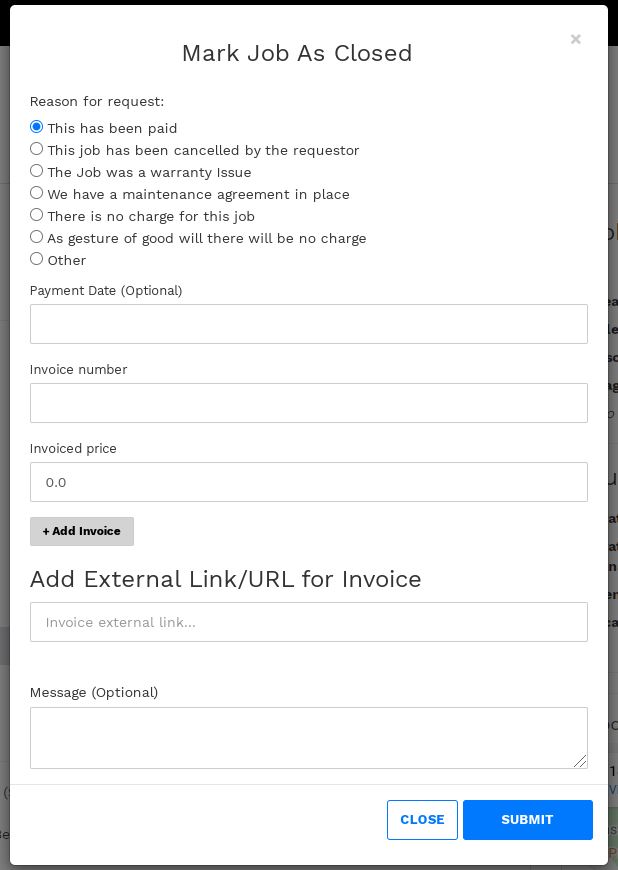 Once the request is submitted, the status of the work order will be in 'Pending Closure'. The strata manager will review the request and he/she will accept or reject it. Once accepted, the job will be closed. If the strata manager rejects it, the status of the work order will return to its original status.