Service Providers may request the closure of a Job. This decision can be made to ensure that all work orders are accounted for and updated on their Profile.
Service Providers should review the examples and information listed below to learn more about when and how to request closure of a Job.
Contents
When to Close a Job
A Job has already been completed and paid outside of the Jobs Portal
The Committee decided they do not want a Job to proceed
A Job pertains to a Warranty Issue and does not need to be invoiced
A Job has a Maintenance Agreement
There's no charge for a Job
A gesture of goodwill and there will be no charge

Close a Job
1. Sign in to the portal
2. Go to the Jobs page (Wrench Icon

)
3. Select the Job
4. On the Work Summary page, click the three dots next to the Message Icon
5. Select 'Mark as Closed'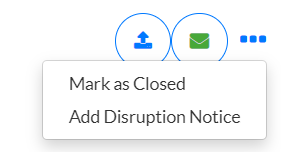 6. Select a Reason from the list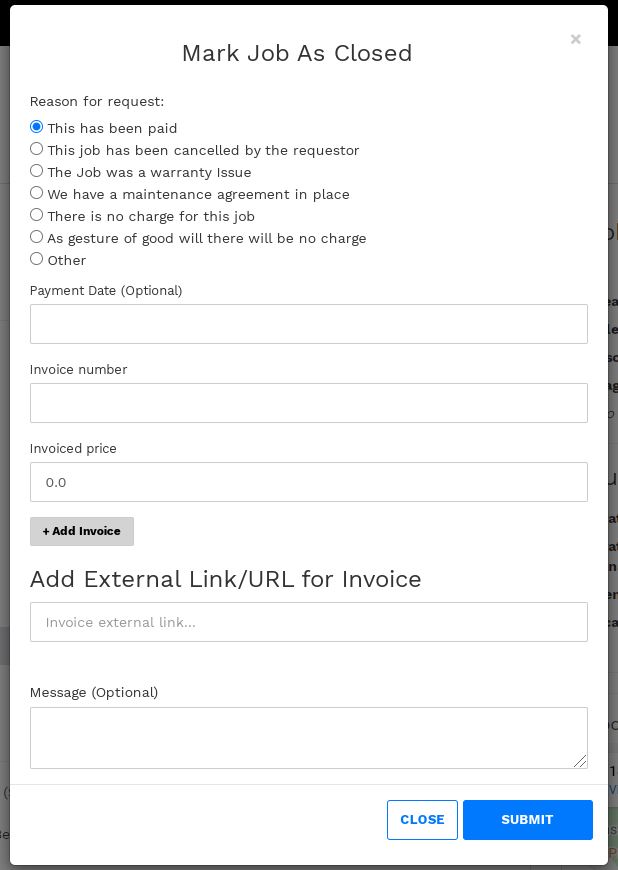 Reason for request:
a. This has been paid
Enter the Invoice number and Invoiced price, then click '+Add Invoice' to attach a copy of the Invoice or enter the URL for the Invoice
Enter a Payment Date (optional)
b. This job has been cancelled by the requestor
c. The Job was a warranty Issue
d. We have a maintenance agreement in place
e. There is no charge for this job
f. As gesture of good will there will be no charge
g. Other
9. Enter Message (optional)
10. Click 'Submit'

When a request for closure of a Job has been submitted, the status will change to 'Pending Closure'.
The Strata Manager will review the request and will accept or reject it. If accepted, the Job will be closed. If rejected, the status of the Job will revert to what it was prior to the request.
Service Providers should contact us with any further questions regarding this process.