Service Providers can view details, notes and important information for an assigned Job by viewing the Work Summary page.
On the Work Summary page, Service Providers can also create different tasks and due dates to help them stay organised.
View Job Details
1. Go to the Jobs page (Wrench Icon

)
2. Select the Job
3. Check the top of the page for the Job ID or Purchase Order Number





4. Look under the Trade Category for the Trade Description, Requirements, Term,
Job Type and Due Date
5. Click the 'Contact Details' tab to view contact info for the assigned Manager or employee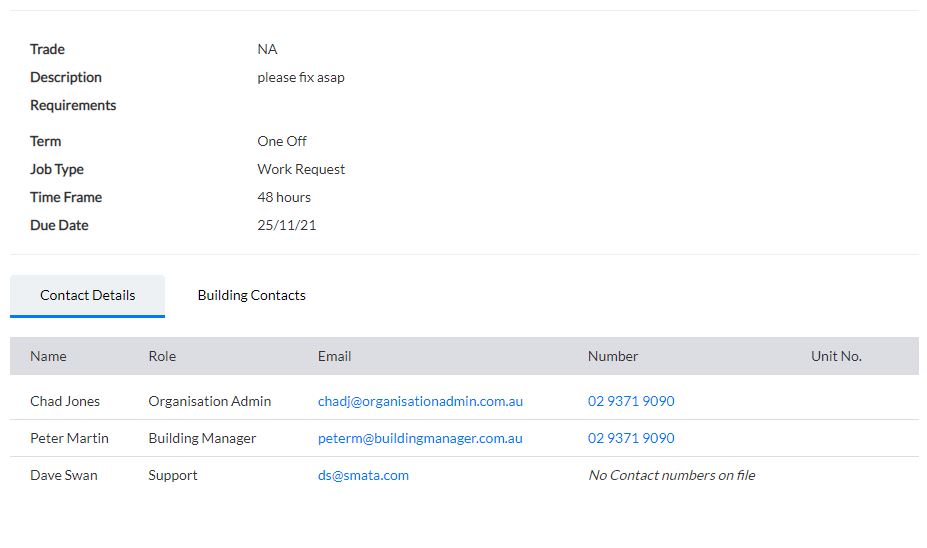 6. Click the 'Building Contacts' tab to view contact info for the Building Contacts
7. If none are provided, click the 'Request Contact Details' link





8. Look under Job Details for a Reference Number, Creation Date, Job Title and Description
9. View images, videos or files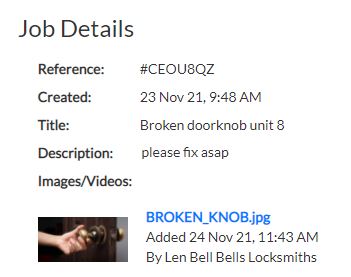 10. Check Building Details for the Plan Number, Strata Manager, Agency, Job Location and Support Manager
11. View the Google Map of the Job Location
Service Providers can use the Tasks feature regardless of whether they're preparing for a Job or have already started work and want to stay on track.
To view, create or save notes for a Job, Service Providers can use the Notes feature on the page.
For more information, please see Add a New Task Using the Tasks Feature and How to Add Notes to a Job.
Service Providers should contact us with any further questions regarding this process.