Uploading files, images and videos to a Job will help Service Providers have a better understanding of the work that needs to be done. Besides contributing to the potential efficiency of their work, this content is useful to have on record for a Job.
After a Strata Manager has uploaded these files, Service Providers can easily access them.
How to Download and Share Files
1. Sign in to the portal
2. Go to the Jobs page (Wrench Icon

)
3. Under Issue Details, move the cursor over the file
4. Click the three dots next to the File Name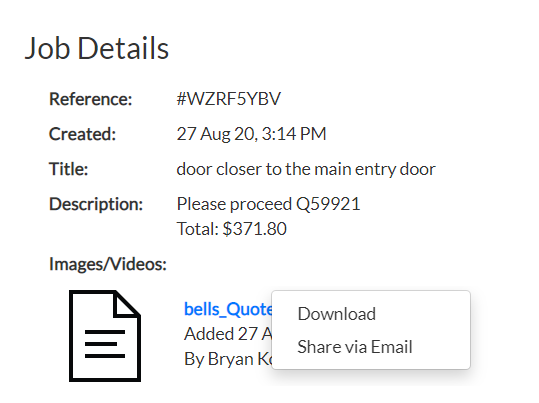 5. Select 'Download'
6. Or, send the file by email by clicking 'Share via Email'

Videos

Files



Note: Each file type has a unique icon.
Service Providers should contact us with any further questions regarding this process.