When a Strata or Building Manager receives Quotes from Service Providers, they can send them to selected Building Contacts for a vote. These contacts will receive an email prompting them to review the Quote and vote on whether it should be approved or rejected.
If the Quote is approved, the Service Provider can begin work. If the Quote is rejected, the Service Provider can resubmit a new Quote based on any feedback.
How to Vote
Committee Members and Owners should check the email on their Portal account for notifications of any Quotes that have been sent for review. Open an email notification and click the 'Review Here' link to go to the Voting page.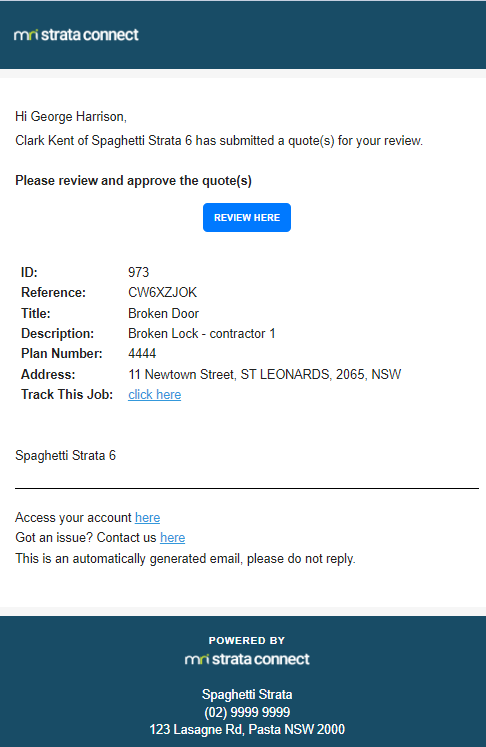 On the Voting page, they can view Quote Details, including the Price, Final Payment, Estimated Time Frame to Start Job if Approved, Estimated Duration, Contractor and Contact information.
At the top right of the page, Job Details will be listed. View the Purchase Order or Job ID, the date the Job was created, the Strata employee who created the Job, Job Title and Job Description.
Below this are Building Details like the Plan Number, Strata Manager of the Building and Address.
Work Details are also listed, including the date that work was created, the Job Type, Time Frame and Description.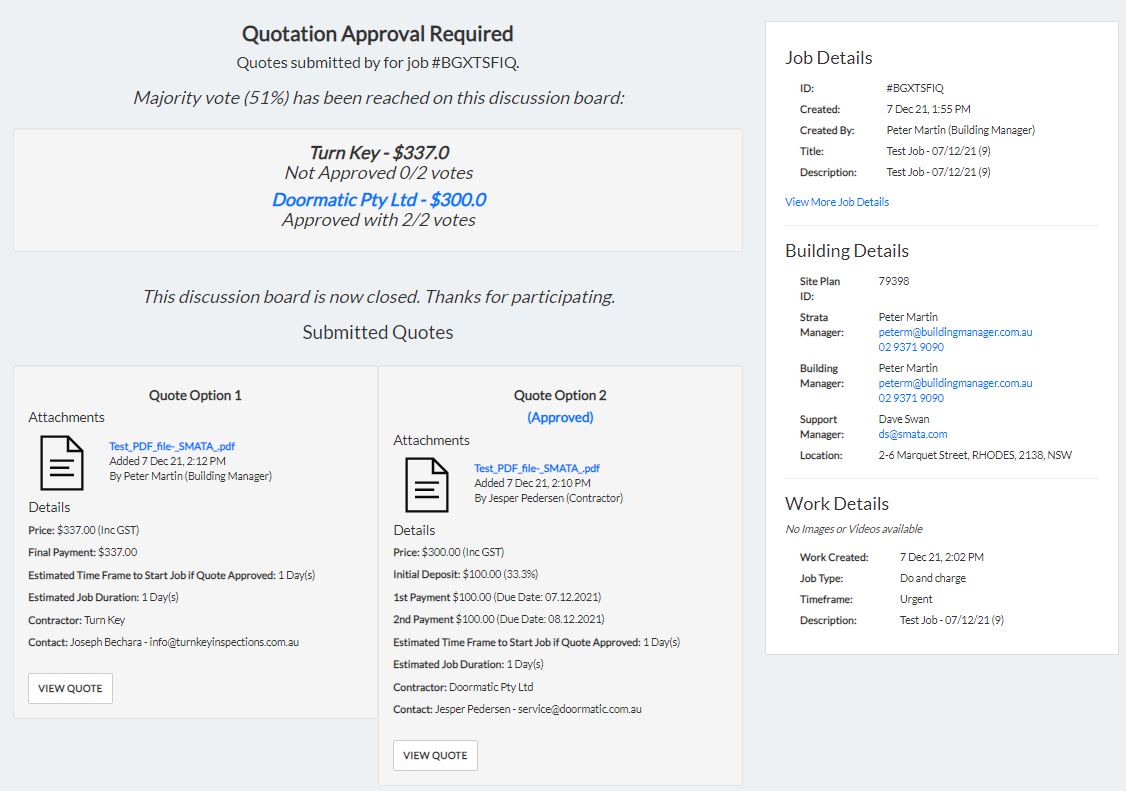 If multiple Quotes are under review, Committee Members and Owners can select a Quote to approve or provide feedback.
They can also add a comment on the Discussion Board or request an adjustment on a Quote.

To vote for a Quote, click the 'Select this Quote' button and cast a vote to approve or reject.
If a majority is reached, all voters will be notified of the decision.

Note: No sign-in information is required when voting for Variances and external Jobs. Voting pages can be accessed directly from the link in the email.

For more information, please see How to Communicate With a Contractor on the Discussion Board and How to Request a Quote Adjustment.
Committee Members and Owners should contact us with any further questions regarding this process.